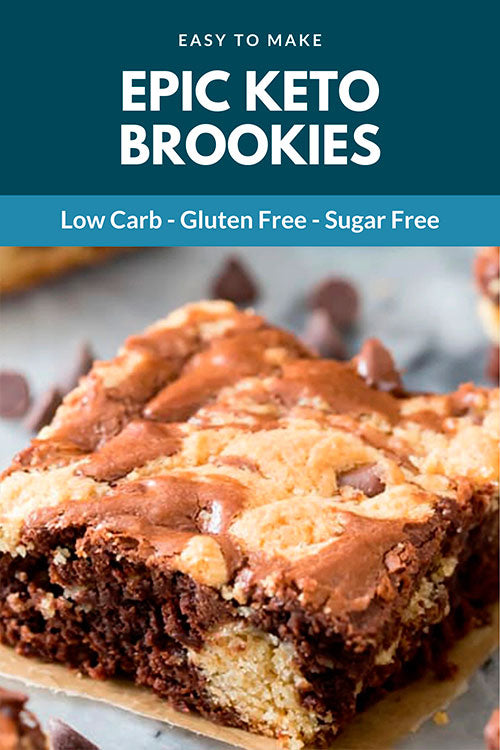 Has it happened to you that you have that indescriptible craving of something soft and crunchy like a cookie, with melted chocolate when freshly baked and at the same time that fudgy texture and the Dark chocolate flavor of a Brownie?
Do not know which to decide? very simple:::: feast on Brookies!
What are Brookies?
They are bars made of streaked layers of brownie batter and chocolate chip cookie dough. I confess, I did not invent this, these bars have been made by many confectioners for years, perhaps only with another name.
What I did is what I do with all the traditional recipes that I crave: to modify them and adapt them to my dietary requirements, that is, without sugar, gluten-free and very low in calories with zero or little glycemic impact.
Do not panic, they are equally delicious or maybe even more! And I assure you that they do not taste guilty and if a magnificent texture!
Brookies are not only super delicious, they're more festive than basic brownies or chocolate chip cookies.
They're perfect for those occasions when you need a fun snack for all ages, and they're pretty handy for packing in lunch boxes and for late-night snacks too. Especially if they are nutritionally perfect!
HOW TO MAKE BROOKIES
You need Lili's Gourmix Brownie Mix and Lili's Gourmix Cookie Mix. You will not use it all but do not worry, just zip them back and save them for another to prepare the rest of each mixture, in fact they are very versatile and have many applications!
Ingredients:
For the Brownie Mix:
Half Pack of Brownie Lili's Gourmix Mix = 180 g (Approx 1/2 cups)

1 egg

¼ cup butter

1 cup of water
For the cookie dough:
Lili's Gourmix Chocolate Chip Cookie Mix Half Pack 135 g (about 1 ¼ cup)

1 egg

half stick of softened butter

1 tsp vanilla
let's get to work:
On a square or rectangular baking sheet, place a parchment paper and grease it a little with spray or your fingers smeared with butter, you can also use a silicone mold or the tray greased without the paper. The function of the parchment paper is to facilitate taking out the brookies and cutting them out of the mold.
preheat oven to 350
Step 1: make the brownie dough:
beat the egg manually with the butter and add the water, beat well.
add brownie mix and mix well. If you feel that the mixture is very thick and hard, add a small splash of water. Pour into the tray with the parchment paper and spread
Step 2: make the cookie dough
Beat the butter well in a bowl and add the egg continue beating very well until the mixture is soft and fluffy, add the vanilla and the cookie mixture stir in an enveloping way with a spatula until the dough is formed.
Step 3: assemble and bake
1. Place small tablespoons of the cookie dough evenly over the brownie dough (no need to spread or press down).
2.Cover the pan with aluminum foil and bake for 20 minutes. Remove the foil and continue baking until the edges of the brownie are shiny and the cookie slice is golden brown, about 20 more minutes.
3. Transfer the pan to a wire rack and cool completely. To cut, remove from pan with parchment overhang and transfer to cutting board. Separate the parchment from the edges and, with a sharp knife, cut the brookies into 2-inch squares.
4. you can add nuts, coconut or sugar and gluten free caramel drizzle before baking them! 
If you do it, please share the results with me, I love to see ideas with my mixes!
My mission is to make your diabetic, celiac, keto, or just healthy journey easier and still delicious!
see you soon
Lili