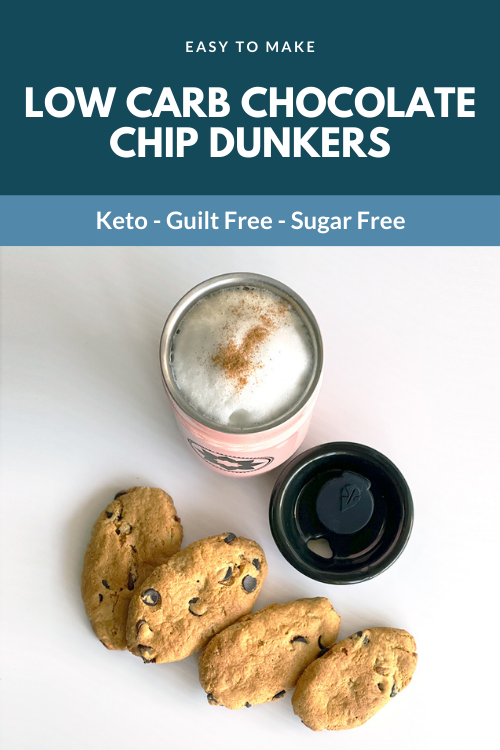 If you are on the Dunking Team, you know exactly what I am talking about here. I love dunking and not exactly donuts -well donuts too but today is all about cookies!


So, I love dunking my cookies in my almond cappuccino, but round cookies don't work well. I wet my fingers or they break before I can even bite them…. Messy, very messy and not-so-funny. ……. Ohhh….. now you are following me, Aren't you?


They're the perfect cookie sticks with crispy, buttery edges just perfect for dunking into milk!


My kids LOVE the cookie dunkers from Trader Joe's. But I can't eat them so I decided to make my one dunkers and share them with the kids. BIG, BIG success!


I am not reinventing the wheel here…it's a common low carb chocolate chip cookie in a different shape. But, for some reason my kids go nuts for them!  (So do I). 


I had to make these a few times to figure out the way I like them best. I made them by shaping the dough into a thin big cookie and cutting it, but I strongly prefer to make them like today's.


I use salted butter, you can use vegetable oil, but opposite to wheat flour made dough which doesn't lead to as much spreading, when working with almond flour based mixes it will spread more. Plus, I am not willing to sacrifice the flavor that butter gives these!


Also I added extra Chocolate Chips as a special request from my kids - not that it was needed as the Cookie mix is chocolate chip loaded but they wanted them extra-loaded today.


You can cut, try and make a big giant cookie layer and cut you dunkers into whatever size you prefer. Obviously the longer it is, the more fragile it will be. Cut them before they are cooled on the pan for about 1 minute and then leave them alone until they are COMPLETELY cooled! 


Or just shape them before like I do and spread individually with your fingers. When they come out of the oven, they will be ready to start dunking!



Low Carb Chocolate Chip Dunkers:
Prep Time: 8 min

Cook Time: 10-12 min

Total Time: 20 min 

Keyword: Low Carb Chocolate Chip Dunker Cookie, Sugar Free

Servings: 16 large dunkers.



Ingredients to make these Low Carb Chocolate Chip Dunkers:
6 tbsp softened -not liquid- salted butter  

1 tbsp vanilla extract

1 egg

⅓ cup very finely chopped walnuts (optional)

⅓ cup unsweetened chocolate chips


How to prepare these

 

Low Carb Chocolate Chip Dunkers:
Preheat oven at 350

In a mixing bowl whisk butter, vanilla extract and egg until creamy.

Add cookie mix and fold in with spatula until  cookie dough is ready.

Mix well, use your hands if necessary.

Make small to medium balls of dough and shape them like fingers

Place them onto a Sil-Mat over a Baking sheet or line the baking Sheet with Parchment Paper. 

Flatten with your fingers 

Bake about 10 -12 minutes until dunkers are golden brown.





Serve with your favorite Coffee or Hot Cocoa and have a happy Dunking!



Don't forget to share your funking with me!