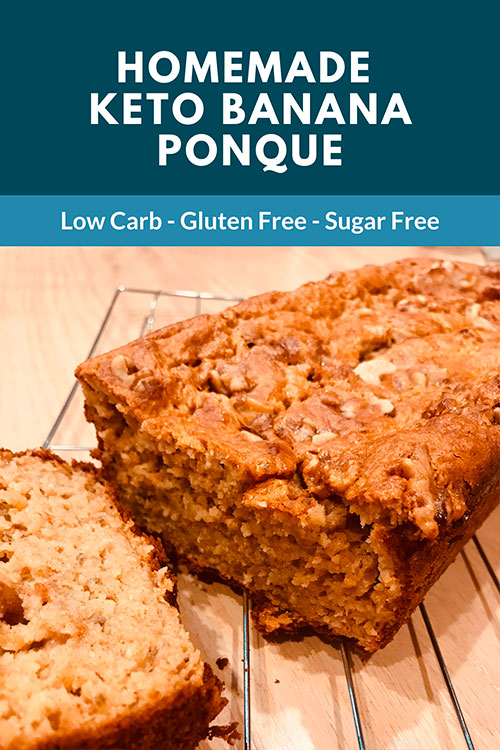 Although I follow a low carbohydrate diet, one of the snacks I remember most from my childhood is "Banana Ponque" -latin word that stands for "Pound Cake"- with nuts.
Many people tell me Banana has carbohydrates .... I agree but if I combine it with a completely sugar and gluten free recipe, and very low in carbohydrates then, I would have the perfect cheat snack!
Wouldn't I?
So I  started many tests with almond flour, coconut flour, both, none .... and I always felt that something was missing.... Until now

After so many tests it occurred to me that if my Lili's Pancake Gourmix is ​​so soft, and the pancakes are so fluffy, and the mix only has 3 g of carbohydrate per serving (generous) despite having oatmeal (which happens to pairs fantastic with banana) and also has fiber, flaxseed and chia...... Well, my so craved Banana Ponque made with this mixture should be a blast.
So I put hands to work. I have to admit that the first time the result was not as expected .... forgot to add sweetener, and the pancake mix is ​​not sweet enough to taste despite the fact that the bananas are somewhat sweet.
The second time I tried it, it was much better. I didn't forget the sweetener but since I beat it manually it was moist, soft but not spongy and with a rustic texture that I personally like, but I was still missing the spongy texture that I was looking for.

Well. As the saying goes... the third one is victory! Today I made again the Banana Ponque  with the Lili's Pancake Gourmix, and this time I made it in the blender .... yes, as you read in the blender ..... and it was mortally good! a snack to die for!
I am so proud of my new recipe that I want to share it with you! ohh, and feel free to warm it up for breakfast and try it Venezuelan style: with white cheese on the side

Here is the recipe for you to enjoy your healthy and guilt-free snack as much as I do:

what do you need?

- 2 very ripe bananas
- 2 cups of Lili's pancake mix
- 1/2 tbsp stevia powder
- 1 egg
- 1/2 stick of butter (you can substitute 3 tablespoons of coconut oil)
- 1 tbsp of vanilla extract
- 1/3 cup of chopped nuts (if you like it with chocolate, add chocolate chips without sugar)
- 1/2 cup of water

Preparation:
- preheat the oven to 360 (my oven is a bit loose so you can set it to 350 if yours is good)
- grease a rectangular pan to make a cake
- liquefy all the ingredients except the nuts and chocolate -if you added it, on low speed for 1 minute
- pour the mixture into the baking pan and add the nuts and sparks, mix lightly with the tip of a knife or with a spatula
- Bake for 35 to 40 min always pending because the ovens vary according to height and capacity.
- Let cool, remove from mold and enjoy!