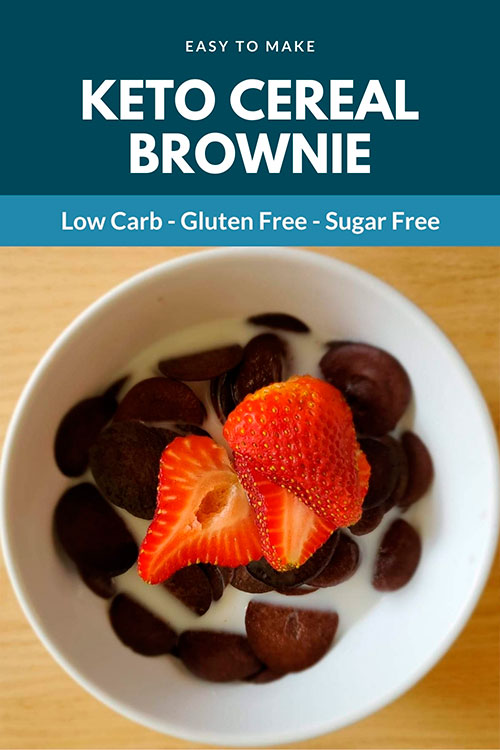 Whoever said brownies are for dessert or snack only... is wrong!
Brownies are the perfect breakfast too, specially if they are full fiber, sugar free, gluten free, they don't have a single empty calorie and they have only 1 or 2 grams of carbohydrate per whole BOWL!
I've made every one of my Gourmixes with you in mind! they are versatile so you can create your own recipes and always be sure to stick to  your macros and also prepare any of recipes and you'll have many different plates that you'll never get bored and yet always no guilt at all.
I am not a fitness person myself, I am just a  woman, mother of 3, struggling with my Thyroid and Pre-Diabetes, who wants to feel normal,  who wants to indulge not just once a year and who wants to be able to share meals with anyone no matter what!
I came across the idea of Cereal brownie because of my Hubby. My kids asked me: 'Mom what are we going to make for Father's day? could we surprise Dad with a breakfast?  Hell yes! Let's make a brunch with Garden Omelets, Cheese Omelets, and a Cereal Bar!
If you are wondering how come cereal could be Sugar free or low carb? Just keep reading 
As always? my recipes and ideas are all the result of ME trying to innovate and yet being able to share with my loved ones? So the Challenges is there always: food that I can eat and they can love and enjoy.... Sounds easy right? 
Well, not always.. Cooking, Baking Sugar and Gluten Free, Low Carb or even keto is easy when making savory meals but SWEETS????? 
Don't worry thought. I have your back in all this! Lili's came to the rescue. Forget about buying a bunch of expensive ingredients, just shop for Lili's Gourmixes and put your hands at work!  (it's just a saying, it won't be that much work!)
This Cereal brownie will take just 20 minutes and any left overs just save them in a mason jar for next breakfast!
what you'll need:
1 Full cup of Lili's Gourmix Brownie mix -save the rest to make Mug Cake or Brownies or even more cereal on another time.
1 egg
2 tbsp oil -I prefer vegetal, coconut oil or just softened Ghee
3/4 cup water
yep, that's all.
Preparation:
Preheat oven at 360 -remember ovens vary so does my times suggestions
Grab a whisker and manually beat egg, oil and water, then add Brownie Mix and keep mixing until well combined. Batter should be semi-liquid.
Pour it in a sauce dispenser -you can use spoon juts remember to make small drops of batter.
Gently pour small quarter size drops onto a baking sheet covered with silicon mat or parchment paper.
Bake about 12 to 15 min and let the cool enough before taking the out of the baking tray.
put them in a bowl and enjoy with your favorite milk!
don't forget to save leftovers in a covered container or mason jar. I prefer ,mason jars so I can just open it and add milk! less dishes to wash.....
If you want to see the step by step preparation video, got to my Instagram or facebook page -see instagram post in this site home page-
Don't forget to follow me and if you like this idea, please share!
love always
Lili