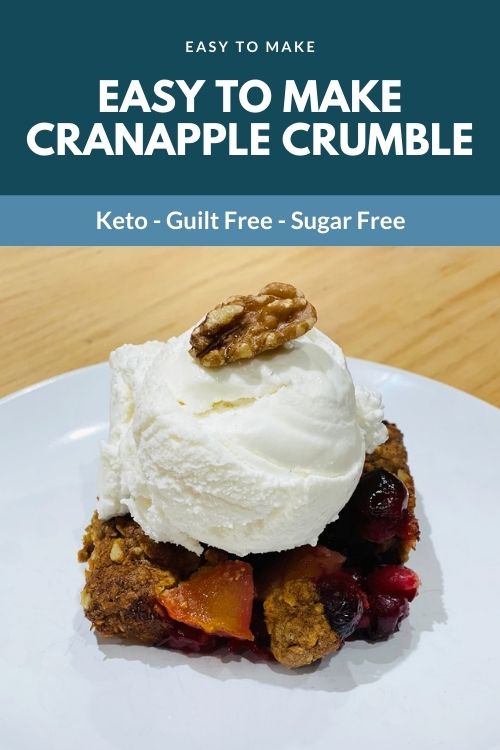 When you thought it was impossible to have a warm Apple Crumble like those, you ate before starting your keto journey or before having the doctor telling you to cut on sugars... I came up with this fantastic and delicious recipe that is not only easy to make, but it will satisfy and fill your craving so much that you might want to double up the recipe to freeze for next time!
This is the Low Carb Crumble recipe you've been waiting for! Let's get on with the details, so your kitchen starts smelling like heaven on earth!
I love Apple but making the Crumble just with apples would take me out of the macros, so I decided to mix Cranberries as I found an excellent deal on fresh cranberries in the local market.
Not on a keto diet, and just keeping your sugar intake as low? Feel free to use only apples; the important thing is to stay away from table sugar and flour. Kids will love this crumble as much as you do, believe me.
I served my crumble warm with Breyer's carb smart ice cream, but Sugar-Free whipped cream will make a beautiful decor too. Not a fan of ice cream or cream? Enjoy it as is… take it out of the oven let it rest a few minutes and serve it still warm.


Leftovers? Freeze them! They last in your freezer for weeks! Just warm it up in the oven, and you are set to go - eat.
How to make easy Low Carb CranApple Crumble


Prep Time: 15 min

Cook Time: 30-40 min

Total Time: 50 min

Keyword: Low Carb CranApple Crumble

Servings: 9 big or 12 regular size
Ingredients for this Low Carb CranApple Crumble:
1 ½ cups Lili's Gourmix Pancake mix

6 tbsp softened salted butter

1 tbsp vanilla extract

1 tbsp ground cinnamon

1 tsp ground cloves

1 ½ cup fresh cranberries

1 apple peeled and cut into small pieces

3 tbsp sweetener
How to prepare this Low Carb CranApple Crumble


Preheat oven at 360

In a microwave-safe bowl mix apple, cranberry and 2 tbsp sweetener, microwave on high for 1 ½ min

In a mixing bowl mix with a spatula: pancake mix, cinnamon, cloves and cut in butter and finish with vanilla extract.

Mix well, use your hands if necessary.

Transfer fruit to a greased baking pan and spread pancake mix crumbles until all fruit is covered.

Bake for about 30 min or until golden brown and fruit is bubbling.
Serve warm with ice cream or Whipped cream.


Don't forget to share your Crumble with me!