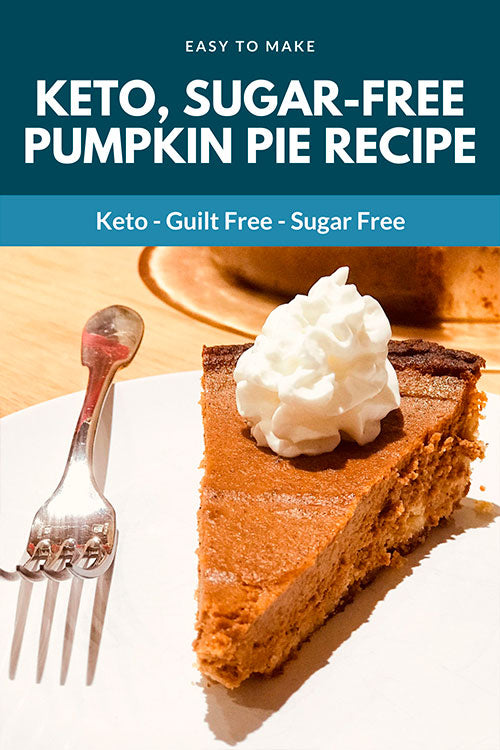 This Keto Pumpkin Pie has all the flavors of a traditional pumpkin pie but is made with a gluten free pie crust and a delicious sugar free, low carb pumpkin custard filling, which  is perfect if you need a healthy sugar free and keto dessert for the holidays


It's incredibly delicious, completely sugar free, gluten free and fits into a low carb keto diet. It can also easily be made dairy-free by swapping out the ghee with vegan butter.


I felt so guilty when I made  my keto Pecan Pie for Thanksgiving dinner -not because of the calories but for leaving behind the alternative of enjoying Pumpkin season-; that when I was in the supermarket I realized it's a shame not to prepare treats and dessert with the amazing texture, flavor and nutrition value that pumpkin adds to any dish.


Keto Pumpkin lovers this recipe is for you! 
Special tips for the most awesome Pumpkin Pie
Chill your pie dough before rolling
Partially bake the crust
Bring your eggs to room temperature for the filling
Allow the pie to cool completely before serving
For the Pumpkin Puree: be sure to use pure sugar free canned pumpkin puree or homemade fresh pumpkin puree by roasting your own sugar pumpkins.
If you don't have Coconut Cream You could also use the thick part of full-fat canned coconut milk.
Powdered monk fruit sweetener:  I use my own blend of Allulose and Monk fruit but feel free to use the your favorite sweetener
Doesn't have Pumpkin Pie Spice: not to worry, just combine cinnamon, nutmeg, cloves and ginger.


Easy ha? Yes even easier than the Pecan Pie, And still delicious!


Classic pumpkin pie recipes are typically made with a combination of all purpose flour, brown sugar, evaporated milk, butter and heavy cream. Since we wanted to keep this low carb pumpkin pie grain-free, you're going to need:


INGREDIENTS FOR THE CRUST:
1/2 tsp fine grain sea salt
1/3 cup cold grass-fed butter or ghee 
2 tablespoons coconut oil
1 egg
FOR THE FILLING:
1 can or 15 oz of baked pumpkin or pure pumpkin puree (NOT pumpkin pie filling)

1/2 cup canned coconut cream

2 tablespoons pumpkin seed butter , (can also sub with almond butter)

1/3 cup powdered monk fruit sweetener (or more if you like it sweeter) 

1 1/2 teaspoons pure vanilla extract

¼ teaspoon fine grain sea salt

2 1/2 teaspoons pumpkin pie spice

1 teaspoon cinnamon

2 eggs
Instructions For the crust
Combine the Chocolate Chip Cookie mix, salt, butter and coconut oil in a food processor and pulse / process until large pea sized crumbs appear. Add the egg, then pulse again, until dough forms and comes together. 

Gather the dough into a ball and wrap in plastic wrap. Chill dough ball in the refrigerator for at least 15 minutes, or up to 2 days.

Once the dough is ready, spread dough all over a regular 9-inch pie dish until walls are also covered, you can also roll dough between two sheets of parchment paper into a large circle big enough to cover the pie dish.

press into the bottom and the sides of the pan. Trim & flute edges and use any leftovers for cutting out festive shapes, if desired. Carefully pierce holes in the surface using a fork to prevent bubbling and place the pan in the freezer while you preheat the oven and you're ready to prepare the filling.
Make the Filling:
Preheat the oven to 325°F. Bake the crust for 15 minutes or until very light golden brown around the edges. Remove from the oven and set aside to cool.
Add all the ingredients for the filling into a blender and blend until smooth and combined. Pour and spread the filling into the par-baked pie crust.
Cover the crust edges with a pie shield or aluminum foil to prevent burning. Bake for 35-45 minutes or until center is nearly set (still a bit jiggly) and crust is deep golden brown.
Allow to cool completely at room temperature for at least 2 hours. Top with coconut whipped cream and a sprinkle of cinnamon, if desired. If making ahead, wrap and store in the refrigerator for up to 2 days.