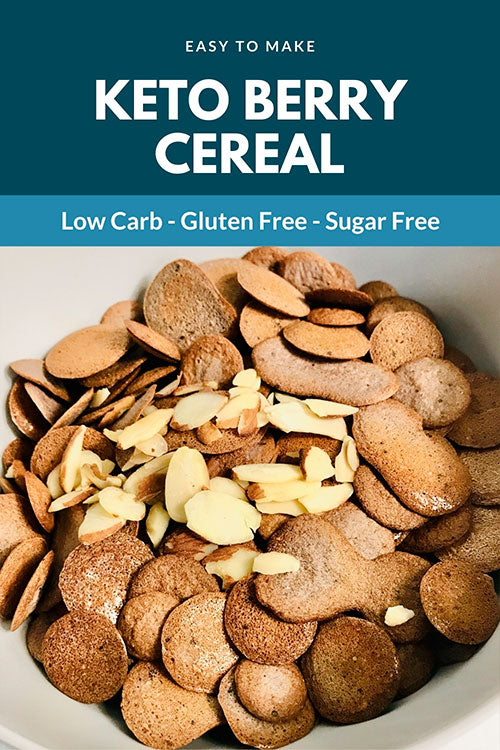 All my life I have loved cereals. Nothing more satisfying for me than sitting with a bowl full of cereal and milk in front of the TV watching my favorite program.
Of course, when I was a little girl it was a sugary cereal accompanied by Milk - if my mother had known the damage that these cereals did at my young age, surely she would never have given them to me -.
Today, cow's milk has already been replaced by my favorite alternative, almond milk, but cereal has been another story - until now.
Being pre-diabetic and with severe thyroid problems, it is impossible for me to delight in common cereals, since most of these are a bomb of sugar, gluten and starches. there are some that are sugar free, but then they have starches and gluten, others are gluten free but full of starches. Anyway, I have not found a cereal that is low in carbohydrates that does not have a glycemic impact and does not provoke an undesired insulin response or that doesn't affect the production of my thyroid hormone. Sure there are some new cereals adapted to the new diet trends, but they still have artificial colors and flavors among their ingredients, which I also prefer to avoid.
That is why I started to experiment without stopping until I get a Cereal recipe that meets the health requirements, but that is additionally rich, very easy and simple to prepare, easy to preserve so that I don't have to do it every time I crave for cereal and that I can also vary its flavors and very important that everyone in my family can enjoy regardless of their age or dietary restrictions! If you are thinking, that you'll miss the fiber in cereals, let me tell you are wrong….. My Pancake mix is fiber loaded so is the cereal!
It is never too late to start taking care of ourselves and taking care of what we give to our children, that is why all my mixtures and recipes are designed for all members of the family without including ingredients that may not be suitable for children or even the elderly. No wonder my flag is "everyone is welcomed to the table!"
To prepare this cereal you only need to have on hand a bag (or more) of Lili's Gourmix Pancake Mix, 1 egg and water. In this variation I added Strawberries and Blueberries to give it a different flavor, natural color and increase its antioxidant power - the mixture already has Chia and Flaxseed.
Among the variations that I have prepared - I have liked all them - my favorites have been this Berry Cereal and Cinnamon Rounds - I will leave you the Cinnamon Rounds recipe on another post later if you want, although is pretty much the same, just skip the berries and add 1/4 cup more water and 2 tbsp cinnamon or more if you like it spiced.
I also confess that I prepared this recipe 3 weeks ago and although I was dying to share it, I wanted to wait and make sure that the cereal can be easily preserved - I used an empty peanut jar that I bought at Sam's Club - Bingo! 2 in one: snack and cereal saver!   It retains its rich flavor and crisp texture even after all that time, to share even as I have it saved. So the photos you see here are the actual unfiltered photos of the cereal after 3 weeks saved.
Ready to prepare your new addiction? Let's do it!
To prepare 2 cereal bowls you need:
1 cup Lili's Gourmix Pancake Mix
1 cup of water
1 egg
⅓ cup of Strawberries and Blueberries
Preparation:
Preheat oven to 360
Add the water to the blender glass -the order of the ingredients does not affect, but I have noticed that adding the water first, the mixture liquefies better and without lumps and is softer- Then add the other ingredients and blend for a minute or until the mixture has a creamy but semi-liquid consistency.
Transfer the mixture to a sauce dispenser, or use a small teaspoon, remember that the drops should be the size of a small coin and fine so that they bake quickly and crisp.
Place the drops on a cookie sheet covered with a silicone mat. 
Bake for about 10 to 12 minutes or until flakes are golden brown. Remove from oven and let cool well before removing. when they are cold just by shaking the mat they should come off, if you can't help yourself with a spatula. You can see the video of the previous blog of Pancakes in the form of Cereal.
Transfer your first batch of cereal to the container where you will store it without covering it and prepare the other batches as well.
Do not cover the container where you will keep it until after at least 2 hours to avoid creating humidity due to the internal steam they may have.
You already have your cereal, and I'm sure you'll love it!
Let me know how much you like it and share your photos with me!
Welcome to the world of #sugarfreesweetness
Love,
Lili