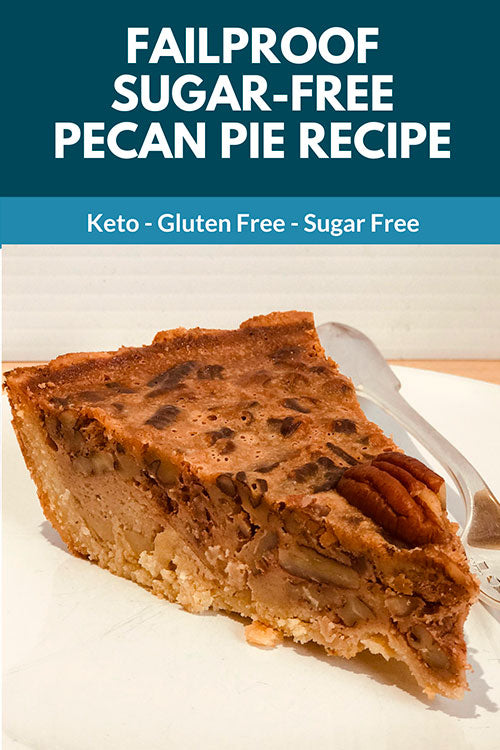 This sugar-free pecan pie recipe is perfect for these holidays, not only does it taste as good as the original recipe, but this keto pecan pie is also very easy to make
The most delicious sugar-free pecan pie you'll ever taste
Thanksgiving dinner is approaching and preparations begin ... woohooo.
As always the dinner star is a very nice table setup. For us sharing the table full of exquisite and completely homemade dishes along with the beautiful presentation, have become a special family tradition.
But every year I focus so much on dinner that I always forget dessert! So this time I decided to be prepared in advance.
I know that the traditional dessert on this special night is Pumpkin Pie, and I want something allusive to this celebration ... but my craving for Pecan Pie -one of my favorite desserts- winks at me.
So I decided to give the Pecan Pie usually high fructose corn syrup and flour  loaded a healthy twist keeping the original flavor.
Special tips to make this Keto Pecan Pie?
First I used my Lili's Gourmix Chocolate Chip Cookie mix to make the crust to give it a special touch and save me work!
Also you might want to brown the butter to perfection ... there's nothing like the flavor that browned butter provides, but you have to be careful not to burn it and this, believe me, happens very easily.
Oh and you'll need to place the pie pan in the fridge for about 15 minutes to chill it a bit, then you'll going bake the crust for 15 minutes at 325 F before adding the gooey pecan pie filling
How To Make Keto, Sugar Free Pecan Pie
Prep Time: 30 min

Cook Time: 40-45 min

Total Time: 1 h 20 min

Keyword: Keto Pecan Pie

Servings: 12
INGREDIENTS FOR THE CRUST: 
1/2 tsp fine grain sea salt

1/3 cup cold grass-fed butter or ghee 

2 tablespoons coconut oil

1  egg
FOR THE FILLING: 
1 cup unsalted grass-fed butter 

1 cup golden monk fruit sweetener 

2 tablespoons almond butter

1 cup full fat canned coconut milk

2 teaspoons vanilla extract

1/2 teaspoon fine sea salt

3 eggs, at room temperature

2 cups roughly chopped pecans

1/2 cup half pecans for the topping
Instructions for the crust 
Combine the Lili's Gourmix Chocolate Chip Cookie mix, salt, butter and coconut oil in a food processor and pulse / process until large pea sized crumbs appear. Add the egg, then pulse again, until dough forms and comes together. 

Gather the dough into a ball and wrap in plastic wrap. Chill dough ball in the refrigerator for at least 15 minutes, or up to 2 days.

Once the dough is ready, spread dough all over a regular 9-inch pie dish until walls are also covered, you can also roll dough between two sheets of parchment paper into a large circle big enough to cover the pie dish.

press into the bottom and the sides of the pan. Trim & flute edges and use any leftovers for cutting out festive shapes, if desired. Carefully pierce holes in the surface using a fork to prevent bubbling and place the pan in the freezer while you preheat the oven and you're ready to prepare the filling.
Make the Filling:
Preheat the oven to 325°F. Bake the crust for 15 minutes or until very light golden brown around the edges. Remove from the oven and set aside to cool.

Heat butter in a large heavy bottomed saucepan over medium heat, whisking constantly. Once the butter starts boiling, continue whisking until you see first foam and then brown bits starting to form at the bottom of the pan as you are whisking.
Brown Butter - have all the ingredients ready to. Remember the butter can burn very quickly.
Remove the pan immediately from the heat and turn heat off. Whisk in the golden monk fruit sweetener until combined. Add almond butter, coconut milk, sea salt and vanilla and whisk until smooth.
Allow the sauce to cool slightly. Once cool, -not before, as the egg might scramble and you don't want that- slowly whisk in the eggs until combined. 
Stir in the chopped pecans and pour into the partially baked crust.
Arrange pecan halves on top to design of your liking.
Bake for 40-45 minutes or until the center is nearly set (still a bit jiggly) and the crust is deep golden brown.
Allow to cool completely at room temperature for at least 1 hour before slicing - yes I know is hard to wait but it's worth it!-. If making ahead, wrap and store in the refrigerator for up to 2 days.
CAN YOU FREEZE LOW CARB PECAN OR PUMPKIN PIE?
Yes, I always make my sugar free pecan or pumpkin pies ahead of time and freeze them. Simply wrap with foil or plastic wrap and store it in the freezer for up to 2 months.
When you're ready to reheat, remove from the freezer and thaw in the fridge overnight.