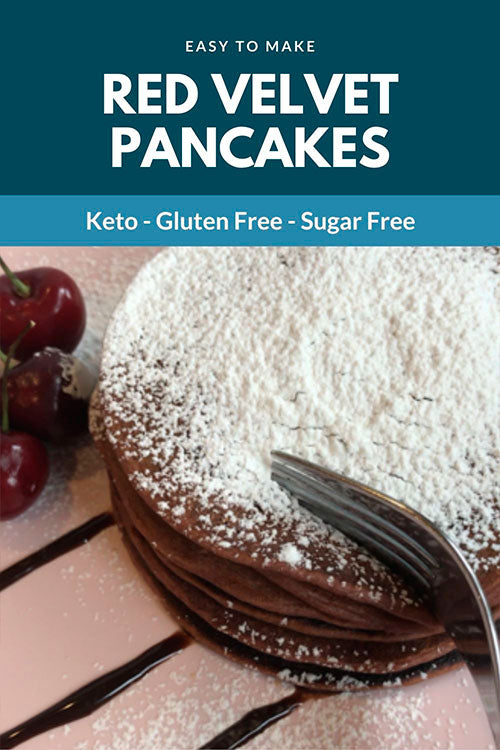 Red Velvet  is traditionally a red, red-brown, crimson or scarlet colored chocolate layer cake with a velvety texture. The red color used to come from the non-Dutched rich cocoa, however nowadays it's common to use food coloring or beet powder (never raw beet). Common ingredients in this luscious cake include Buttermilk, butter, cocoa, vinegar and flour.
Today I invite you to try these delicious RED VELVET PANCAKES that are soft and fluffy as the the traditional cake, but with a healthy twist.
First we are not making a cake but a pancake -stack-, and with our pancake mix, they are just so easy and fast, that you might want to repeat them everyday.
Tops? these pancakes are not only fiber and Omega loaded and low carb, but antioxidant packed thanks to the added Unsweetened Cocoa Powder which is the star of this recipe 
 As red velvet is usually covered in a creamy Cream Cheese topping, feel free to top your pancakes the same. I decided to make mine filled with almond butter and topped with Stevia sweetened heavy Cream
 Are you ready to share this idea with your friends? let's see who makes them first!
 With Lili's Gourmix everyone is welcome at the table!
Ingredients:
to make 8 to 9 delicious pancakes
1 cup Lili's Gourmix Pancake mix
1 cup water or milk alternative
1 egg
1 tbsp unsweetened cocoa powder
2 drops natural red food coloring or 2 tbsp beet Powder 
how to make them:
Preheat a non stick pan.
Blend all ingredients together for 1 minute at high speed
Let the batter rest and expand for 5 minutes
Prepare as directed in the bag.
serve with your favorite topping, or just like me.
Simple ha? Yes I always share very easy and simple recipes that anyone in the family can make .... and eat!
I hope you enjoy this as much as I do
love 
Lili