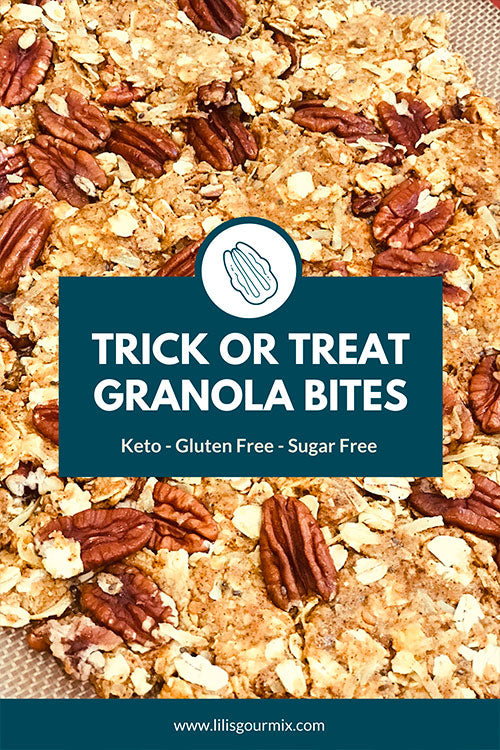 Sometimes I want to bite something crunchy-sweet-crispy-oaty, I love granolas but most of them are sugar loaded and of course …. Carb loaded.
I have found a lot of Keto granola recipes, they are not bad at all, but I still miss that oaty flavor so I decided to give my Pancake mix a try since it does have some gluten free rolled oats but a huge amount of fiber plus Chia and Flax.
I am sure any flavor will pair perfectly with this recipe, but since we are in the pumpkin season, let's make some Trick or Treat Bites! (we never know when a keto, diabetic or celiac will knock on our door trick or treating!) and while we wait we can grab a bite too :) 
Just a heads up, when I made this I added the pecans before baking the Granola, and they were almost burnt while the rest was still undone, so in the recipe I suggest to add the pecan pieces almost at the end. When you make this don't forget to tell me how it went!
Yes this granola ends up being very very low carb as the pancakes are.. Do you want to try it?
You'll need:
2 cups Lili's Gourmix Pancake mix
2 tbsp pumpkin pie spice
3 tbsp coconut oil melted
4 tbsp sugar free maple syrup
½ cup unsweetened shredded coconut
½ cup pecan pieces
Preheat the oven at 300, combine coconut oil and syrup, add spice and mix well.
Add the coconut and Pancake mix, combine and fold in with spatula -you might want to finish with your hands.
Spread mixture onto a Parchment lined baking tray (a silicon mat works too) and bake for about 30 minutes. Take it out of the oven, mix should be sticky;
Stir in pecans, and bake again until the whole mix is golden brown.
Remove from the oven and let it cool and break into pieces. For crumbly granola instead of Bite blocks, just stir the granola again when it is still hot to separate crumbs.