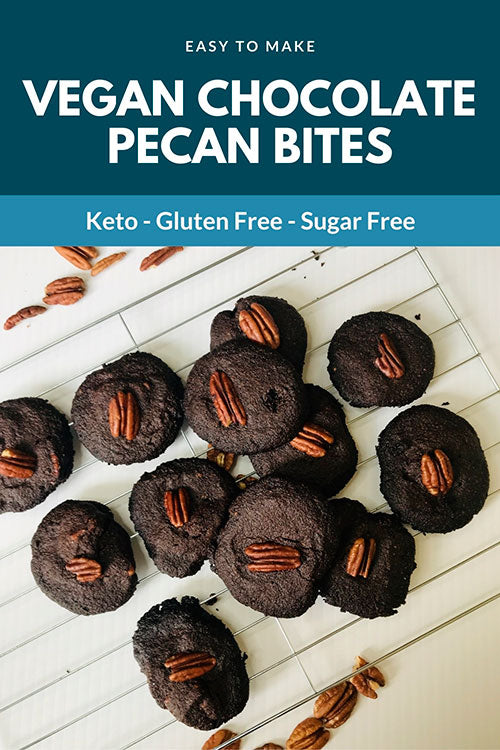 I am not vegan but I do have many many vegan friends and I always keep them in mind when creating recipes.
Being Nutritionist and Having worked so many years creating balanced menus and catering for Yoga retreat Groups in Aruba and Bonaire helped me to deeply understand their reasons, beliefs and nutritional needs. 
Today I bring you this recipe for these singular textured bites "polvorones". "polvoron" is a spanish word for a powder-like cookie which doesn't have any egg and it's supposed to be powdery when you touch it and melts away in your mouth, just as the Shortbread cookies.
Of course recreating the delicious "polvorones" was not easy when it comes to the sugar and gluten free side! why? because "polvorones" get the powdery and soft texture just from regular flour and sugar!
But somehow I managed to recreate it with my  Brownie and Cookie mixes. Just remember that when baking with the Brownie mix, as it contains Erythritol (to keep the glycemic impact low to zero) you always need to let them cool for at least 1 or 2 hours as they come out so soft that you believe they are wrong! after cooling down, even a day after they become AMAZING!
So…..  Are You on the #veganteam? Well if you are, for sure you'll love these Sugar and Gluten free all vegan shortbread style Dark chocolate bites with pecans!   Just Sub butter for coconut spread or Coconut Manna and you are all set.
And if you are not vegan but still like eggless cookies or better yet want to experience the spanish "polvoron" texture? we've got your back too. Use butter to make this recipe and enjoy these delicious treats.
My mission is to make your Diabetic, Celiac, Keto, weight loss, Hypothyroidism, Grain Free, Journey as easier as it can be but always -AND I MEAN ALWAYS- delicious!
As I promise: "With Lili's Gourmix everyone is welcome to the table"
You need this:
Ingredients:
1 cup brownie mix

¼  cup butter 

⅓ cup pecans
let's get to work:
Preheat oven to 350

In a bowl beat softened -not liquid- butter add brownie mix, mix well and make small balls.

place on silicone mat or parchment paper on a baking tray or cookie sheet
4. Press balls to flatten them a bit (not much as they will spread when baking)
5. place a pecan half on each cookie
6. bake about 20 - 22 min. They will look too soft so don't test texture when still hot, just make sure they are not burnt but cooked! they'll be ready when you touch them and they are dry but still soft.
Don't forget to like and share wherever you want and feel like, IT doesn't cost you anything and it means the world to me
Enjoy!
Lili